I can remember when Zack was little I could share intimate and difficult details about his life and his medical needs, but when someone asked me "What about you? What do you do for yourself as his caregiver", I lost it and dissolved into tears.
Taking care of ourselves as caregivers…as mothers…is so complex and difficult. We can often find all the excuses in the book- not enough time, can't afford it, my kids need me, and so on, to avoid putting our own needs on the "to do" list of our busy lives. Self-care means different things for different people. For some it's time with friends, others it may be time to pee alone, time as a wife with our husbands, a bubble bath without a rubber ducky, a trip to the gym or even just a quick manicure. It's time to recharge, reconnect with yourself and even release stress!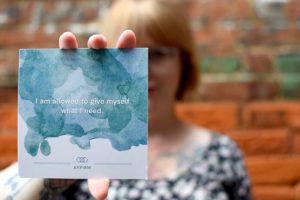 I think for me, as I've gotten older and my kids have gotten more independent, I find that I can get a little me time and even identify when I really need a break (thankfully, I also have a husband that knows when I need it too!). I love a good manicure, my Friday mornings at Orangetheory Fitness and I have recently reconnected with my love of reading!
I'm really excited to introduce Barbara Erochina, my cousin Tanya's partner and founder of Be With Cards for Self-Care. Be With is a set of 36 cards divided into six different categories: write, speak, ask, rest, move and affirm. Each category suggests simple prompts to help you Be With yourself in the moment: whether that means slowing down, paying mindful attention, or giving yourself tender loving care. You can preorder your Be With cards here or enter to win a set below! There are many ways to use this deck: alone, with another person, in a group setting, or as a practitioner. Any way that serves you is the right way. Shuffle them together and pull one at random, or work through them category by category. It's up to you.
These stunning cards help you tame your inner-critic (yep, I've got one of those) and give yourself the love and time you give everyone else. The work of Being With isn't about achieving goals, becoming a better version of yourself, or fixing your emotions (like my sensitivity). Instead, it's about the possibility that you are already enough, that your feelings are your friends, and that the most productive thing you can do is begin to trust yourself and your process (don't you love that you have permission to work on YOU?).
I've pre-ordered my own deck and one for someone I love and now I can share some great tips and insight from coach and Be With Cards founder Barbara….interviewed by her partner, my cousin, Tanya (aren't they adorable?)! 
Take some time for yourself! Enter to Win a Set of Be With Cards for Self-Care!