I can't believe that the slow cooker that we received as an engagement gift from my great aunt, actually took me about 12 years of marriage to take out of the box! After that burgundy crockpot with the rose pattern stopped working (yay), I upgraded to a digital Hamilton-Beach slow cooker that I use at least once a week! I love preparing dinner after the kids leave for the bus in the morning and then coming home from work to a wonderful smelling kitchen and a dinner that's waiting for us!
This weekend was one full of more hockey than usual and I wanted to have something home-cooked instead of another drive-thru meal for my guys! Ty helped me to make a slow cooker meat lasagna that I saw online a few weeks ago and with a few of our own tweaks, we had an incredible dinner (with leftovers for lunches or even another dinner!).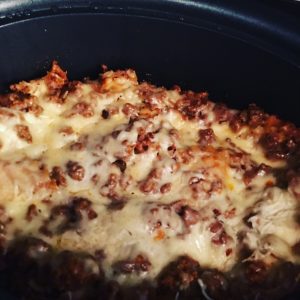 Slow Cooker Meat Lasagna Recipe
Ingredients:
1 lb. ground beef (I used two smaller packages, you could also use ground turkey)
1 jar of your favourite pasta sauce
1 cup water
1 tbsp minced garlic
1/2 tbsp onion powder (you could also use onions sauteed with meat)
1 container ricotta cheese 
2 cups shredded mozzarella Cheese (use 1 cup for cheese mixture, 1 cup for top)
1/2 cup grated parmesan cheese (use 1/4 cup for cheesse mixture, 1/4 for top)
1 egg
1 tbsp basil
1 tbsp oregano 
1 box of oven ready lasagna noodles
Directions:
1. Brown meat in a skillet with garlic, onion powder, basil and oregano (get the kids to help with this part!)
2. Stir in pasta sauce and water, let it simmer.
3. Create the cheese mixture by combining ricotta, 1 cup shredded mozzarella, 1/4 cup of parmesan, 1 egg.
4. Start your layers with enough meat sauce to cover the bottom of the slow cooker, then add a layer of noodles (break them to fit the best you can), next add a layer of cheese (thin layer so you have enough for a second cheese layer), add another layer of noodles, then meat sauce again, noodles, cheese, noodles, and finally meat.
5. Add the remaining 1 cup of mozzarella and parmesan cheese on top.
NOTE: Don't overthink your layers…it doesn't have to be the same every time, but I would separate cheese or meat with noodles as you go. It is important to start with liquid sauce on the bottom. 
6. Cook on LOW 4 hours. My slow cooker defaults to 8 hours on low, so be sure to adjust the time.
7. If you aren't ready to eat when it's done, set to warm (it makes it easier to cut if it sits for a bit.)
8. Serve with a caesar or garden salad and red wine!
Here are my favourite slow cooker recipes:
How to make a whole chicken in the slow cooker
Slow Cooker Low Carb, Low Fat Turkey Chili