The months since my total thyroidectomy due to thyroid cancer have been an interesting journey of adjusting to my new scar, damaged voice and of course, the fact that my metabolism now relies on medication to regulate it and that medication has caused me to gain some of my lost weight back. I've felt the struggles of fatigue and insomnia as well as the frustration when I just don't have the energy that I used to have. It's tough to realize that the body that I finally felt comfortable in has now betrayed me…and I'm desperate to get it back.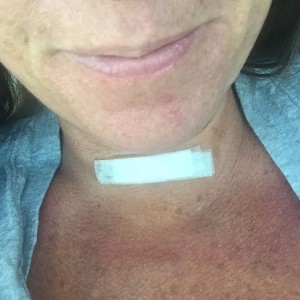 About two months after my surgery, I started back to my regular weekly classes at Orangetheory Fitness (OTF) in Richmond Hill. I know I could have tried to gradually get back to exercise with a lighter yoga class or two, but I wanted to do what I had learned to love. What I had come to know really works to motivate me. What I soon realized was that the road back to the level of endurance and strength would not be as simple or easy as I had expected. I was really frustrated in those first few classes at how my "Base, Push and All-Outs" were not as they had been pre-surgery.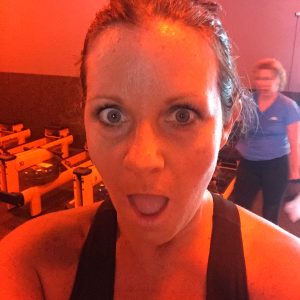 I'm a newbie when it comes to working out. I'll never forget my 20s when I thought that going to the 'muscle' gym was what I needed to do to meet guys and get in shape! Fast forward to my 40s and I need to be bossed around! My time is precious and in one hour, I need to know what I need to do to stay healthy and get fit! So, what's the difference at OTF? A few things really work for me:
1. Wearable heart monitor allows me to watch my progress on the screen. I never knew that this would motivate me until I worked out at OTF. Using bluetooth technology, I watch the screen to see when my heart is working at 84% or higher (where you earn "SPLATS" for being in the "ORANGE ZONE") during the interval training. If I'm only in the "GREEN ZONE" then I know that I need to work harder to get my heart rate up! After your workout, you get an email with your results. I never realized I was so competitive…with myself!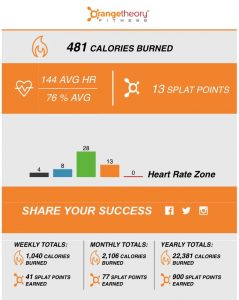 2. Trainers who get to know you and what you need to be motivated! I have gone to other gyms (many moons ago) when I was just roaming around from section to section not having a clue what I was doing or even if I was doing the exercise correctly! Now I have a trainer guiding me for the full hour of my workout. The amazing trainers tell me when I need to adjust my position to really get the benefit of the weight-training exercise and also help to keep me going when I feel like I want to give up or slow down!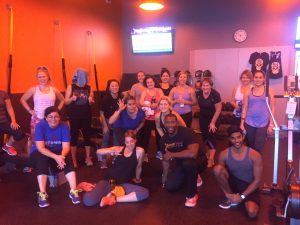 3. I love the science! Backed by science, Orangetheory Fitness is a 60-minute workout broken into intervals of cardiovascular and strength training. After a workout, there is always post-exercise oxygen consumption, or EPOC. This EPOC is what burns more calories as if you were still working out (yippee!). With most workouts, there is a 200-400 calorie increase to metabolism for 24-36 hours after the Orangetheory Fitness workout.·My average workout calorie burn is between 500-600, which means I add this to my food diary app and earn more calories that day.
4. All bodies, abilities and ages accepted! One of my favourite things about OTF is that I'm surrounded by mostly women of all ages, abilities and weights. Some come to lose weight, others to maintain fitness and some to stay vital in retirement. There is no judgement or shame, only celebration and comradery…plus my bestie works out there too…so I send her these selfies after a class!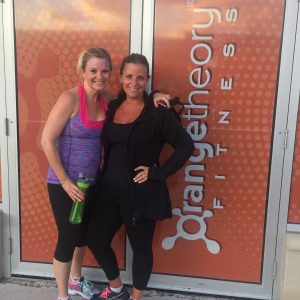 It's not always easy, but I love my Friday ritual of going to an Orangetheory Fitness class in Richmond Hill. I know that I need and should go more and I do hope that I can bump this up to twice a week between hockey and work. I also have a goal to lose the weight that I gained on my new thyroid medication and to work towards my old stamina and energy level. It's going to be a process and take time, but I know I've found a way to do it!
Since OTF is expanding its GTA studios to ten in 2016 and adding another ten in 2017, you should try a free class!
Follow my journey over the next few months on Instagram or learn more about OTF on Twitter or their own Instagram account.
Disclaimer: I've been an OTF paying member since 2015 and I'm thrilled to now be part of the Orangetheory Fitness Ambassador Program with Yummy Mummy Club.