Oy Vey…what have we done! The last few months have been a huge learning curve as we entered this hockey season as a new rep hockey family. We are incredibly proud of Jayden for wanting to try out with so many of his buddies and then making the Novice AE team for the Richmond Hill Stars! He really needed to feel success, after his recent diagnosis and we were so thrilled to see him so happy! Of course, there have been some ups and downs as we've become mildly obsessed with the sport both of our boys have learned to love and we've made some sacrifices to make all of this happen. We've spent entire weekends in and out of the rink, lived and breathed the hockey schedule, become regulars at the Tim Hortons drive thru all while having the best time cheering on our son from the stands!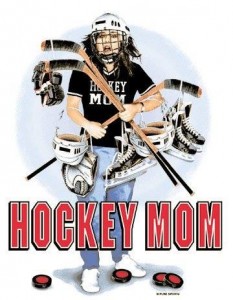 The truth about rep hockey is really just a (sub)urban legend until it's you and your family experiencing it, first hand. You've seen the team fun, your child may envy the logo on the team jackets and you may even want to travel to stay in a small town hotel for a tournament, but you don't really know the reality that will become your life, until you are actually a rep hockey mom or dad.
So here it is, some of the truths that I know about being a new rep hockey mom this season. I hope that it can help you decide if it's the best choice for you and your family. 
Truth: It's expensive. I mean really expensive. Be expected to pay anywhere between $2500 to $4000 depending on the level, age group and region (house league is about $600-$700). You can pay monthly cheques to make it a lot more manageable, but it's literally a car payment. What exactly are you paying for? This money goes to the association, pays for all the ice time, coaching equipment, training experts, tournament fees and gear for your kids (tracksuits, jackets, hats, etc.).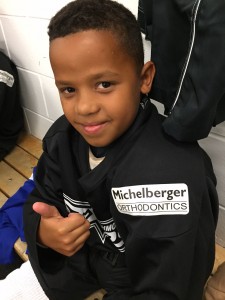 Truth: There will be new play dates and carpools. It's awesome. There will be new friends hanging around the house and trading play dates with you. Sometimes you will carpool to the (boring) practices to share the burden of those rushed nights. Your child may even find some new close friends that connect with them around the sport they love and so much more.
Truth: You will make new grown-up friends. You will add each other on Facebook, drink wine after the tournaments and ring cow bells with some amazing new parents who will cheer on your kid, buy your tea, car pool with you and commiserate over the schedule with you. Think of this as one more opportunity for not only your child to make new friends, but you too! But remember that just like in life, there will be parents on the team that you just don't click with. Take a deep breath, keep trying to build a relationship and remember that you are all in this together.
Truth: Holy cuteness! At 8 years old, those personalized tracksuits and custom jerseys are pretty much the cutest thing in your child's wardrobe. Watching them carry their own garment bags or equipment bags is pretty adorable too! 
Truth: You may see less of your husband. Paul is not only the manager and member of the coaching staff, but now has decided he's the team DJ (staying up late to get the perfect playlist)! Having just bought a speaker that will blow our neighbours away if we use it on our deck, he used the "Hockey Score Keeper Sounds" app to play some pretty cool announcements and songs to get us all pumped during the game! To say that he's excited about being a hockey dad would be a huge understatement…just look at him and his speaker!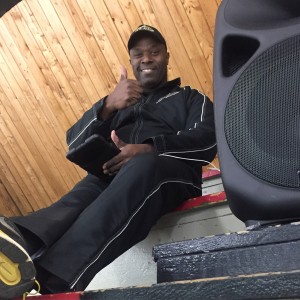 Truth: Teachable moments and life lessons galore! If you want to give your child a taste of the real world…rep hockey or probably any sport is a great way to do it! Learning to take direction from the coach, advocate for themselves, take responsibility for their actions, performance and even their gear are all great lessons for young hockey players!
Truth: Your car and garage are no longer your own! Make way for hockey bags, sticks, garment bags and practice nets and surfaces! Your trunk will look and smell like you are a hockey parent and there is no going back. Your groceries may have to find a new home, but at least by keeping everything in one place, you are guaranteed that you won't forget anything come game time!
Truth: Feeding your family will be challenging. You and your slow cooker will be best of friends this season. While you will try to feed your child protein 2 hours before each game (just like your team trainer suggested) and not load them with carbs too close to game time, it will happen. There will be dinners at 4pm or 8pm and you won't eat dinner at the table much at all during game nights. It's definitely a struggle to rush (or skip) homework, other after school commitments, then head to the rink, but somehow you find a way to make it work. Dinner is often on the run, but you can keep your meals healthier, if you pack them from home, keep snacks in the car and resist the drive thru (except for your own coffee!).
Truth: Volunteering your time, really helps the whole team! Sign up to help the team, but be careful about what time you can give! In our family, Paul is the Team Manager and has a lot of administrative responsibilities above being a member of the coaching staff. I'm the lead for Fundraising and Sponsorship team which means I'm asking people to help raise money…not easy but it's important for us to step up in a role that will really support the team and Jayden. Even if you don't have much time, offer to create a flyer, update the team website or join a committee so that you can offer ideas. Everyone should sign up for a role to be fair to all parents! It's a great way to teach the kids about giving back to the community and being a contributing member of a team.
Truth: You will have to leave work early. Our practices are at 5pm on Tuesdays and Fridays and the parents on the team rush north from downtown, juggle their other children's schedules or even work from home so that they can be on time for their son's commitment. It can be a sacrifice for sure, but ice time is at a premium and often the younger ones get the earliest times.
Truth: You will have to ask people for money, often. Rep teams expect some of the costs to be offset by fundraising and sponsorship. Our team goal is to raise between $10k-$16k! Yes, that's almost $1000 per family. This means that you will be expected to participate in all fundraisers for the team, including selling raffle tickets or boxes of frozen meat, attending pub nights, getting buddies to come to poker events or finding a foursome for golf tournaments. You will have to sell raffle tickets and hit up family, friends and colleagues…more than once. It's tough, but it can be done and each team makes their own decision of what fundraisers to do. Try to make a list of who you have already asked, so that you can share the requests evenly. Don't forget to network with other rep hockey parents, so you can reciprocate on each others initiatives! So…meat, anyone?
Truth: The competition is tough! Your child will have moments when they don't shine and it's okay. My stomach is in knots when Jayden is on the ice during a game. I get so nervous for him to try his best, not always being perfect but working hard for himself and his team. Sometimes he just doesn't perform and while my head reminds me of the commitment and cost, he's still a kid. All kids are going to have good days and bad days and it's just part of the game! No need to get stressed or worried, but sometimes a good chat about how they are feeling about their performance is a good way to help them build self-awareness, assess any worries and ensure they are still having fun!
Truth: Your child will thrive! Seeing Jayden look up at me in the stands as I madly ring the bell after a great play, is pure magic. As the kids skate off of the ice after a great win or even after playing their hardest you can truly see the love of the game and their own sense of pride. There are amazing lessons that happen when they are part of a team.
We've loved and struggled the last couple of months getting into the rep hockey groove…but would we give it up?
No! We know that over the season we will adapt and adjust to what life is like as rep hockey parents. We also know that the benefits of seeing your child excel, enjoy and participate in a sport they love, far outweigh the work and time commitment and truthfully, I just love screaming and ringing that bell!
Have you ever considered rep hockey for your child? What advice do you have for other families? Looking for the perfect gift for your favourite hockey player? Check this out! 
Hockey Mom Prayer,
May I find the best route to the hockey arena in rush hour traffic.

May there not be any road closures, beginner drivers or other stressed out hockey parents in my path. May The Boy have remembered all his equipment.

May I hold my incredulous yell of frustration back when we're running late and he tells me that he MIGHT have left his hockey gloves on the floor back home. May I find the grace not to scream at an opposing player who has just elbowed my son in the head. May I find a spot in the arena that is actually under a working heater.

May I not get sick of Tim Horton's coffee, bagels, sandwiches and Timbits in the next eight months. May I try, for once, to just enjoy the game and not get stressed out and embarrass my son by screaming in the third period "Jesus, Mary and Joseph! SKATE!!!!!!!" May I have the right words to comfort and encourage him when he has a bad game and the exuberance to celebrate with him when he has a good one.

May I remember that he loves this freezing, time-consuming, money-sucking sport and that he is a thing of beauty when he skates. And, most of all, may I remember that his childhood is passing all too quickly and that, one day, I will actually miss the all the time we spent in the van hustling back and forth between arenas.

One day I will wish for that time back so let me hold it in my memory as long as I can because it is flying away from me, faster than my son on hockey skates.