I really love being the one that people come to for advice on how to honour someone they love, when they have died. While it can be difficult to relive our moments struggling with the same questions, it's comforting to know that I might be able to help another family think of a special way to honour the birthday of someone they miss. 
This year, on September 21st, it will be our boys' 7th birthday.  Four years since we all celebrated together. As I wrap my head around another year without Zack, I'm overwhelmed with memories of what it was like leading up to the arrival of our twins.  The joy I felt being pregnant, the excitement as were about to meet them and then the way the world changed just after Zack arrived. This year, Jayden will be opening presents, sharing cake with his friends and enjoying family time but how do we mark the day for Zackie?  How to we hide our sadness and grief from our happy birthday boy?  The question haunts me every September, as I find the perfectly appropriate way to acknowledge the day for Zack while not taking away from Jayden's celebration.  Certainly a unique and almost impossible feat but we've managed to do it for 3 years.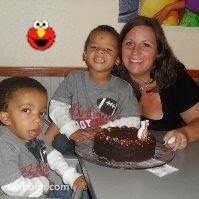 Turning 3. Their last birthday together.
Just last week a new Twitter friend (connected through the loss of our children) was approaching the first time she would celebrate her daughter's birthday since her death.  What could she do?  How could she acknowledge the day?  What were some ideas to do something in her daughter's memory?  I shared some of the ways we have celebrated Zack's birthday over the 3 years since he's been gone.  
Here are 10 ways to acknowledge, remember and celebrate the birthday (or death anniversary) of someone who has died;

1.  Send Balloon Messages:  Nothing says a birthday like balloons.  Especially when there are kids involved, balloons are the symbol of a birthday.  We love to take a Sharpie marker and write personal messages to Zack and then sing "Happy Birthday" as we send the messages (and balloons) to Heaven. We often leave an Elmo balloon at the grave on that day.
2.  Do what they loved:  Did you loved one have a favourite movie?  Watch it.  My Twitter friend watched "Rio" for her sweet daughter.  Did they love to eat at a special family restaurant?  Eat there.  Did they love a particular game or activity?  Do it.  We love to blow bubbles for Zack, as it was one of his favourite things.  It reminds us of the memories of family time spent blowing bubbles for him and watching his infectious smile and laugh as we tried to pop them.

3.  Visit their grave:  It seems obvious, but some people find the grave site a sad place to visit.  In our family, we have cried and laughed there.  We've had cake on the grass for our first birthday without him and we've let off balloons singing "Happy Birthday" beside his gravestone.  Our sweet friend, visited Zackie this week and made us realize that he is missed and remembered by so many others.  If you have a friend or family member who is missing someone they love, you might want to make that same visit so they know that person has not been forgotten.  It will mean more than you could ever imagine.


4.  Be with Family:  The most important thing after Zack died, was to just be with family on those tough days.  Take the day off of work, plan a special day out of the house or just host a small and causal day together with family or friends (make it Pot Luck, as you don't need the stress of hosting a dinner). Sometimes just being together is the best way to honour someone who is missed.

5.  Make something special:  Photobooks, artwork and even online videos are all amazing ways to share memories and celebrate the life of someone you lost.  I love to make photobooks for the boys and even videos or slideshows about our memories with Zack. It gives our family a moment to reflect on those days, cry if we need to, laugh about silly times and even share stories together. Write a blog post if you are a blogger, write a letter and tuck it away somewhere special or write a poem about your thoughts.  Sometimes we make treats, Elmo candy pops, the pudding he loved and I have even made Elmo cupcakes with the boys.



6.  Buy Something Special:  I love this new wall art that we bought at HomeSense.  Could it be more perfect?  There are really beautiful frames, artwork, printed pillows and even decorative pieces that might remind you of your loved one.  Was it their favourite quote, colour or a photo from a place they always talked about?  Buy yourself a birthday gift to celebrate a birthday of someone in heaven.

7.  Go away:  Our first birthday without Zack was painful and overwhelming.  We talked it over as a family and decided that we just couldn't throw a party that year.  We decided to take a trip to Great Wolf Lodge with my parents, my sister and brother-in-laws families!  It was just what we needed to be kind to ourselves, reflect on the day, have some fun and take our minds off of the immense sadness.
8.  Donate to a Cause that Matters:  Did you loved one die of cancer, MS, ALS, a Stroke or other disease?  Even a small donation in the name of someone you lost is an amazing way to celebrate their life and honour their birthday.  We are about to walk 20km for Zack's Dream Team in support of SickKids and I love that it happens the week after Zack and Jayden's birthday!  Our donation and our commitment to walk together is just one simple way to teach our boys about giving back, but also spend time with families who have been in our shoes.  We love the chance to donate money to SickKids on Jayden and Zack's birthday, but most we love to make a difference in the lives of so many other kids.
9.  Light a Candle or Leave a Chair at the Table:  One small act of remembrance is  perfect if the other ideas are just too painful.  Leave an extra chair at the table for the day, keep a candle burning or leave out something special to them or move a treasured photo to the main area in the house.  An unspoken guesture is often all that you have in you for the first year and that's okay.
10. Do nothing: It's okay to just do nothing.  It's okay to let the day slide by with no fanfare, special ceremony or acknowledgement.  Give yourself permission to stay private and alone with your thoughts and not worry about making any extra effort if it's just too hard.  
Above all….be kind to yourself. 
Do what your heart will allow and nothing more. 
Don't be concerned for what others may think, but what will help you mourn, remember and treasure the memories.