We did it! For the fourth year in a row, Paul and I walked the full 20km…but this time the boys joined us! I really thought that we might only do 10km this year, for a few different reasons (mostly that we didn't have anyone to hang with the kids when they pooped out at 10km) but we did all 20km!
A special thank you to our supporters! Together, with almost 3,000 other participants, our family raised $2000 but collectively we raised an incredible $2.1 million for SickKids in 2016!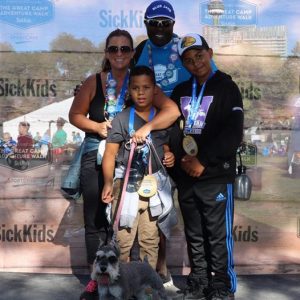 I love raising money in Zack's honour. It is one of the greatest ways that we've grieved his death and celebrated his life. Fundraising is tough, but our friends and family have always rallied around us and showed their support. In fact, leading up to the day, I got more and more excited hitting "refresh" everyday waiting to see if we got one more donation, reached our goal or to see if I had to adjust our goal to a higher amount (that's my favourite).
Having done all 4 years of the Great Camp Adventure Walk for SickKids, I would call myself a bit of an expert. I know how to make it a memorable and successful day for our family and yours.
Here is why you and your family should register for the Walk for SickKids 2017!
1. Don't bother packing snacks…be prepared to eat! From the breakfast sandwiches…to the campsite healthy treats…to the Base Camp dinner…the food is amazing (and you earned it, right?). Each stop has some healthy snacks to keep you going the distance, so grab a granola bar or apple and fill your water bottle along the way! At the 7.5km and 10km stop this year, we had a great bag lunch (vegetarian and chicken option) to eat in the park. It was a really welcomed and relaxing stop to recharge before we conquered the second half. No matter what distance you complete, dinner is waiting back at Base Camp. This year they served hot dogs and burgers, salad, corn and even sweet potato fries! It was a huge hit for my hungry walkers and a great way to end the day.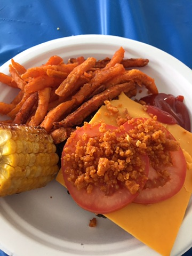 2. You will meet some amazing people along the journey! Every year at the "Spirit of Sport" camp stop sponsored by SportChek at The Hospital for Sick Children we have met incredible athletes. This year we met Toronto Raptor Patrick Patterson and the kids totally loved meeting these superstars and even got to take a selfie! Beyond the athletes and some Toronto celebrity guests (like Ben Mulroney), you will meet the true superstars…the doctors, nurse and staff of SickKids who truly deserve the podium for all they have done for our family and so many others.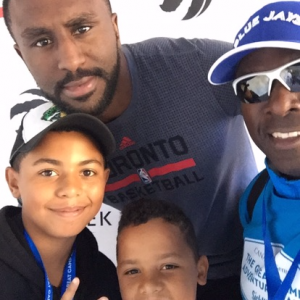 3. You can do whatever distance you want…push yourself and the kids!  Walkers can stop at any time along the route. Many families with little ones choose to do 5km together and then head back to Base Camp for the activities. Others see how far they feel comfortable doing and decide to end when they run out of steam. No judgement…it's all good. The boys have always been done after 10km, which is okay with us. Paul and I have enjoyed walking the second half together. This year, we had a scooter which totally made a world of distance to keep Jayden engaged, faster and having fun. He really kept up this year and loved having the freedom and independence to go ahead a bit along the route. I would really recommend a scooter!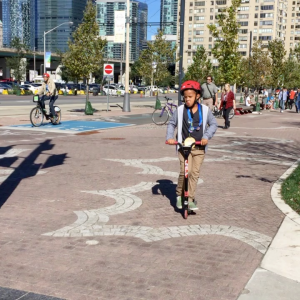 4. Dogs are welcome! I have already admitted that Paul was right and I was wrong, so that should be enough, right? The morning of the walk, he decided we should bring our schnauzer, Roxy. I thought she's just slow us down and get tired…but was I ever wrong (there, I said it again), she was a total rock star! She got along with other dogs, didn't stop to sniff everything and made the day really fun! There are tons of treats for dogs, since Pet Smart is a partner in the Walk for SickKids. Dogs are welcome everywhere along the route!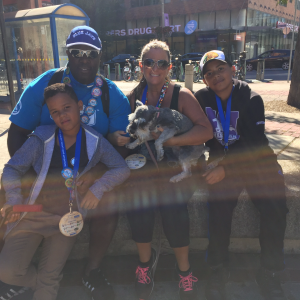 5. It's a really fun family day together! You get to enjoy an gorgeous day around Toronto's cool districts! It's incredible what you see on the journey and stories you can tell the kids about the city we love! We chat, sing, listen to music and take more than our share of selfies…all for a great cause. Each camp site along the route has activities for kids of all ages; jump ropes, art, singing on a stage, hoola hoops and more! But mostly, our family loves to have the full day together to walk and talk and remember our Zackie.
6. You can expect to collect some serious bling! Just like the strong and brave patients at SickKids who receive bravery beads, you can collect some cool bling too! At each stop along the way, at the 2.5km markers, you collect your buttons showing your accomplishment and the activity at that stop. We have our lanyards and buttons from every walk we've done! This year, Camp Messy Hands and Spirit of Sport were two of our favourite camp sites this year. On top of the buttons, you get a t-shirt, a SportChek water bottle and usually a bunch of other goodies to fill your bags!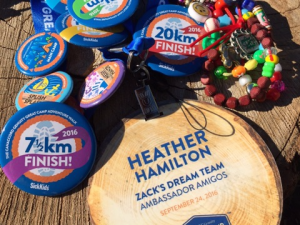 7. Prepare to be emotional! Whether it's the flag raising ceremony, the t-shirts printed in memory of someone who has died or the walk passed the place that makes children's lives healthier…be prepared to be a part of something big…something important and something that truly makes a difference.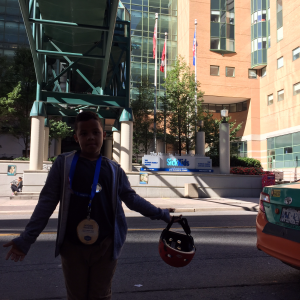 Want to join us next year? We've already registered for next year's walk on September 30th, 2017, To register, it's only $20 for adults and $10 for kids and the fundraising minimums have recently been reduced to make it attainable.
Hope to see you there!