Learning to love my body after thyroid cancer and my total thyroidectomy has been a long process. It's been almost a year since I heard the words "you have cancer" and started to have a different relationship with my body. Getting over the surgery was much easier than dealing with the year long adjustments to my medication and the depression I've felt associated with my body just not performing the way it had before.
I've found ways to work through my depression through adding some T3 (Liothyronine Sodium) but I find myself "hyperthyroid", which means my thyroid hormone levels are very low (recommended after cancer). The problem is that this means that I have several symptoms that impact my daily life and health and have prevented me from getting back to some of the things I love to do…like being more active and working out regularly!
Part of dealing with my feelings of sadness has been to find new ways to take time for myself and get back to the things that make me feel excited, passionate and good about myself AND my new body. I've recently started to do a daily (most days) meditation with a great app that I love. Just those 10 minutes most days have helped me to slow down, commit time to how I'm feeling and learn calming techniques for times when I need them. I've also started to see a therapist that I really love. She's helping me talk through so many things that I haven't dealt with for many years and she's advising me on ways to counteract that "negative self talk" that so many of us deal with daily. I've also started to volunteer more with the Thyroid Cancer Canada Board and even the boys' school…giving back has always brought such a positive focus to my life!
The last thing that has been crucial to helping me feel like me again and to get me out of the "fog" of my own emotions is getting back to the work out that I love! I've tried to get back to working out at least once a week (going twice this week) at Orangetheory Fitness (OTF).
This hour is just for me. With the interval training guided by some incredible coaches, I don't have time to get sad, worry about things or even stress about the craziness of world politics! I can clear my mind, focus on myself, my health and getting in the "Orange Zone" (when my heart rate goes above 84). I even bought myself a new workout top and try to book with my girlfriends so I can have some fun (no chatting though, or we have to do 10 burpees each!). While the R&B or 80s tunes that I love are blasting, I get into a groove and push myself to go even just a bit faster or harder than the last time.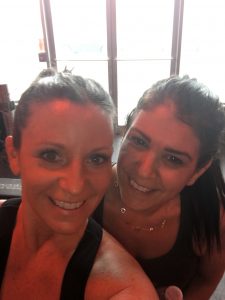 It's been challenging to manage my hyperthyroid heart palpitations with the intense workout. I find that I'm in the "RED zone" (over 91) too often to really be safe, so I've spoken to the incredible expert trainers at OTF about how to modify the treadmill, rower and the floor blocks so that I get results and still stay safe and healthy. I love that the women (and a few men) in my classes all have their own limits too- some are just starting out in their fitness journey, others are pushing to the next level. Some are trying to lose weight, others need an escape from their everyday lives to focus on themselves and stay active.
For me, it's not all about losing weight and getting toned (although my goal is 10lbs and tighter arms). It's more about de-stressing and getting my energy level up. It's about finding time for me, feeling good about myself and feeling proud. It's about realizing that I may not have the energy level that I had BEFORE thyroid cancer, but I can learn to embrace the new "cancer-free" me.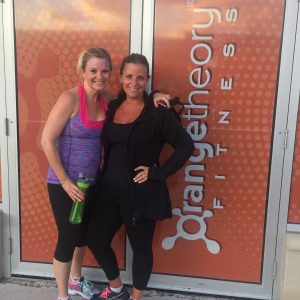 Want to try a free class at your local Orangetheory Fitness? Sign up here!