If you're a hockey mom like me, you know that winter means that hockey takes over your weekends and even several weeknights but when it means watching your little player score a goal, try their best to learn new skills and make new friends, it's all worth it!
Whether your child plays house league, local league, select or rep hockey, you can expect to have some fun at an "away" tournament. Last month Ty's team booked a tournament in Niagara Falls during the holidays and I was eager to have my first "away" tournament experience!
When time came to book our stay and I heard that the team of 15 teenage boys and their families would be saying at the Courtyard Marriott Niagara Falls, our favourite hotel in Niagara, I started to warm up to the idea of being away from home, not having to do laundry, make a bed or cook any meals!
Are you considering a sports tournament in Niagara? Here are just a few "must-dos" to add to your list and tips for the manager of your own team.
1. Book a block of rooms at the Courtyard Marriott. We checked into the hotel and were thrilled with our family suite that featured a room off the bedroom that we used to entertain the kids and store the junk food for the team! The group rate is discounted for all sports teams (just call them and you couldn't find a more family and team-friendly hotel that is central to all the fun in The Falls).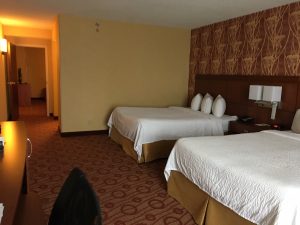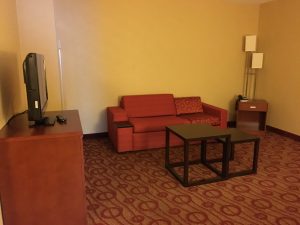 2. Plan some team-building fun! Staying at the Courtyard Marriott means that you can send the kids to the arcade and the indoor pool for some exercise between games or even after dinner. I recommend renting the activity room in the basement of the hotel for some mini sticks, pizza (we loved Frank's Pizzeria) and drinks for the grown ups.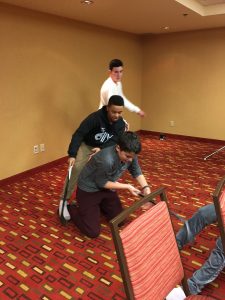 3. Book a team breakfast and experience at NHL legend Marcel Dionne's BlueLine Diner in Niagara Falls! By far the most memorable two hours off the ice was spent in the private team room at the Blue Line Diner (be sure to book well ahead of your visit). Not only was the food served with very generous portions (and delicious), but Mr. Dionne spent almost 45 minutes inspiring our whole team, calling them up to do an activity about a "life lesson" and then took photos and signed any of the items purchased in the over 5000 square feet of hockey and sports memorabilia! It was the most unforgettable experience (for the dads as much as the kids!) and it's a MUST if you are traveling to the St. Catharines or Niagara Falls.
4. Get the Dads together for some local beer tasting! The hotel was walking distance to the newest destination for hockey dads on the strip- Niagara Brewing Company. They tasted a few different brews, ate kettle chips and learned more about how the beer was made on site.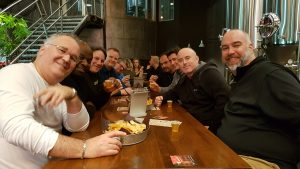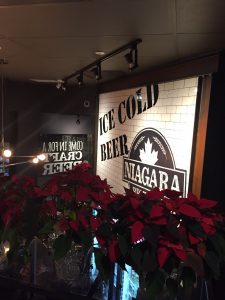 5. Make friends with the moms on the hockey team by trying some local Niagara wines! We stocked up on red and white wine (Barrel Fermented Chardonnay is my fave!) from Chateau des Charmes for our team-building/parent-get-together event! The moms loved trying the local wine while we got to know each other better (and the boys were busy with the mini sticks). We were all really disappointed that we couldn't squeeze in a trip to the local winery for a tasting between games, but hope to make plans for our next visit!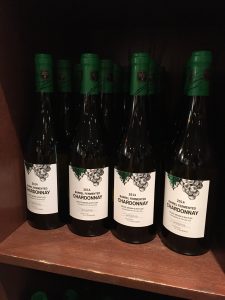 5. Let the kids be tourists in Niagara Falls! We had some downtime between games on our last day and the younger kids just wanted to walk the strip and hit the Midway and Fun House, while the older teens wanted to try the Haunted House. We had plans to visit Bird Kingdom, but we ran out of time (we will visit in March). They all had a blast together and even pooled their tickets at the Midway to buy a souvenir for the team and siblings to remember the trip.
Did Ty's team win the tournament? No.
Did we all have an amazing hockey tournament in Niagara Falls? Yes, we sure did!
In fact, we enjoyed it so much that as manager of Jayden's team, we've decided to head back to Niagara Falls for a March Break tournament. Our rooms are already booked at the Courtyard Marriott again! I have a feeling I'm in for hockey deja-vu!