"What's for dinner?" is one of my least favourite phrases heard around my house. As I slowly answer what we're having, I cross my fingers and hope that it won't be met with…"oh, that again" or "I don't like that".
What the kids don't seem to realize is that for their entire lives, I've been planning ALL of their meals! That's a lot of stress! I don't love cooking and some nights we are racing from homework time to the rink, so not every meal is a home run. Some nights, it's a Jamaican patty or fish fingers. I do like to serve healthy meals when we have time, so my latest obsession to save some time AND cook healthy meals is my slow cooker (it's an amazing digital Hamilton Beach slow cooker). I defrost the meat overnight (or buy it fresh) and then set it in the morning and come home from work to a wonderful meal!
Last week, I posted my whole chicken on Instagram and had several inquiries about how to make it, was it moist, did the kids like it…etc. It was so super easy and yes, the kids really loved it.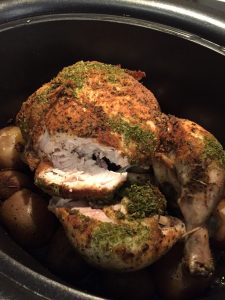 Ingredients:
1 whole chicken (insides removed)
1/2 tbsp of paprika
1/2 tbsp garlic powder
1/2 tbsp onion powder
1/2 tbsp thyme
1/2 tbsp basil
salt and pepper to your own taste (I like seasoning salt)
potatoes (I used mini ones)
optional: carrots
Directions:
1. Start by mixing all seasoning together to make a rub for your chicken.
2. Place 4-6 half large potatoes or several small potatoes to almost cover the bottom of the slow cooker (this helps the chicken stay moist!).
3. Rub your seasoning mixture over your entire chicken (inside and out!).
4. Place the whole chicken on top of the potato base. Optional: add in carrots (I'm going to try this next time).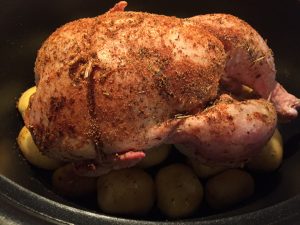 5. Cover and cook on HIGH for 4 – 4 1/2 hours, or LOW for 6 1/2 – 8 hours (I used the low setting for 7.4 hours).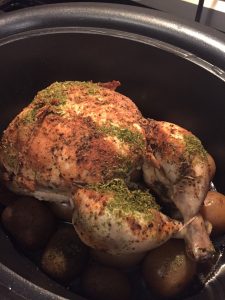 6. Serve the chicken and potatoes with your family's favourite veggies!
Enjoy!